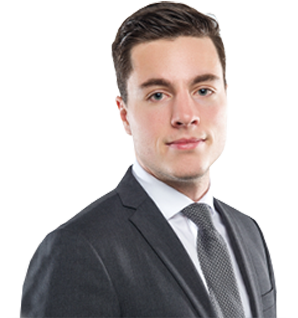 VCARD
Me Jean-Nicolas Larouche
Practice Areas:
Criminal Defence, Federal Attorney, DUI Defence, Expungements
Location:
Fargo Bank, 355 S Grand Ave, Los Angeles, CA 90071
Personal Experience
Diplômé de l'Université d'Ottawa et admis au Barreau du Québec le 4 décembre 2015, Me Jean-Nicolas Larouche exerce au sein de notre firme en droit civil et commercial. Me Larouche est doté d'un esprit d'analyse et de synthèse des dossiers légaux hors du commun et d'une bonne expérience en gestion des litiges.
Verdicts & Settlements
He has obtained over $100,000,000.00 in verdicts and settlements on behalf of his clients. In 2007, He obtained the largest employment verdict against a public entity in the United States for $19.1 Million. The following cases are some of the verdicts and settlements that Mr. Paboojian has obtained on behalf of his clients:
$ 19.1 Million – Stacy Johnson–Klein v. California State University, Fresno – Employment Case
$ 10 Million – John Doe v. Jane Doe Corporation – Auto Accident/Personal Injury
$ 9 Million – Jane Doe & John Doe v. Concrete Pumping Truck Company – Wrongful Death/Personal Injury
$ 5.7 Million – Gil Chavez v. D.R. Horton San Diego – Crane Accident/Spinal Cord Injury
$ 4 Million – Martin Rodriguez v. Jason Peden – Personal Injury/Spinal Cord Injury
Organizations & Memberships
In 2008, Mr. Williams was president of the San Joaquin Valley Chapter of ABOTA. He has addressed a number of legal organizations, including San Joaquin College of Law, in the area of civility. From 2004-2006, he served on the Board of Directors for the Fresno County Bar Association. He has provided a number of lectures to various organizations including law schools, civic groups, and health care providers in the area of personal injury and wrongful termination.
Honors & Achievements
2018 CAL-ABOTA Trial Lawyer Of The Year
2017 Trial Lawyer of the Year
Martindale-Hubbell AV Rated
Super Lawyers' Top 100 Lawyers in California
Languages
Greek (fluent), English (fluent), French, Italian.
Contact Me